Jiangyin Lutong Industrial Co.,Ltd.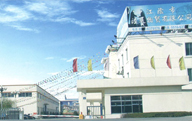 Jiangyin Lutong Industrial Co., Ltd., established in 2002, is located in the economically developed Jiangyin Huashi Town in Jiangsu Province, close to the Coastal Expressway, Shanghai Nanjing high-speed, covering an area of 55000 square meters. After several years of steady development, the company has gradually formed a scientific research, production, sales, export as one of the international enterprises. Roadone Wumao including two subsidiaries: Jiangyin Shengtong Aluminum Co., Ltd. and Chaohu million Jinshan building materials limited company.
Jiangyin Sheng Tong Aluminum Co., Ltd. is specialized in the production of solar powered support, the framework of emerging enterprises. Products are handsome in appearance, with reliable quality, complete specifications. The main raw material of aluminum 6063-T5, T6, are both from in the title of national inspection free products of Jiangsu Jiangyin Haida group.
The company has a highly qualified technical staff, the introduction of domestic and international first-class automated production equipment and advanced quality testing equipment.